– Fade Ogunro, a Nigerian woman, has given a full scholarship to a young boy, Anthony Mmesoma Madu, whose dancing got everyone talking online – The Nigerian said that she would pay for the boy's education to the university level – Fade also added that the smile of the boy is amazing  A Nigerian woman, Fade Ogunro, has given hope to a young boy identified as Anthony Mmesoma Madu whose dancing video went viral days ago. In the video that has been watched over 14 million times, the boy could be seen making amazing lines in the rain on a very wet floor. BBC reports that he is one of the 24 students at the Leap of Dance Academy in Lagos state, an academy founded in 2017. On Wednesday, June 24, Fade said she would sponsor the boy's education until he finishes university. Weeks later on Wednesday, July 8, the Nigerian shared a snapshot of the boy and another that she pledged to sponsor in school.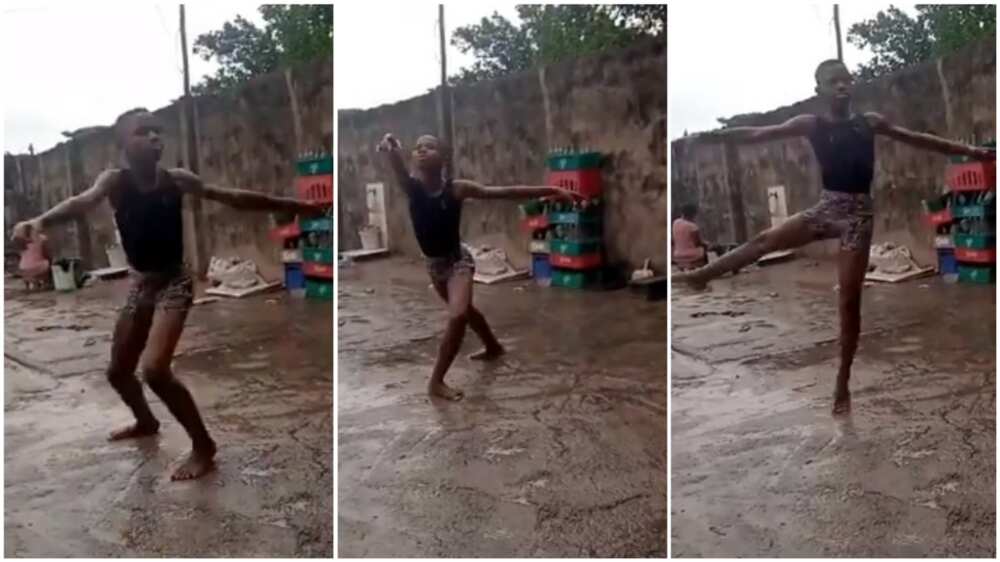 A collage of the boy making composing fine lines under the rain. There are other amazing black dancers too. Remember Charlotte Nebres who was in the New York City Ballet's first black Marie, an allusion to the young heroine of a 1954 show. The 11-year-old said that whenever she dances, she feels free, reinvigorated, and happy. Another one is Michaela, a civil war orphan, who proved all her doubters wrong, and became the star that she is today in ballet dancing. She was born in Sierra Leone in 1995. Meanwhile, earlier reported that Adeyeye Ogunwusi, the Ooni of Ife, has adopted as his own a 17-year-old boy who artistically drew his portrait with just a pencil. In a post he made on Thursday, June 26, the monarch said that he would pay the boy's tuition fee up to the university level and give him a job when he graduates.
"I got tagged on Twitter a few months back from a young man who made a brilliant pencil drawing of myself, in my appreciation for his art I invited him to my palace," Ooni said.  The monarch added that it is a fact that if all work together irrespective of their social status, there will be access to socio-economic opportunities for all. Ooni of Ife said when he met Samuel's mother, a corn seller, she demonstrated an "incredible heart of motherhood".